6 tags
1 tag
6 tags
10 tags
"May 2, 1971. Have just finished reading Dracula. It really tells you little or..."
– Christopher Isherwood, Liberation: Diaries 1970-1983 p.s. http://edwardgoreyelephanthouse.tumblr.com/tagged/dracula
3 tags
6 tags
3 tags
3 tags
Thanksgiving morning I discovered lots of this funny-coloured paper so perhaps I'll start using it up. I feel like I'm typing on oatmeal, especially with this typewriter. I have just finished, subject to sudden recollections of other things, a little list of things I have to do. I have a mind to write SUICIDE at the top and forget the rest. Having successfully resisted invitations for the day...
5 tags
Elegant Enigmas: The Art of Edward Gorey,... →
11 tags
12 tags
5 tags
4 tags
3 tags
4 tags
5 tags
4 tags
3 tags
Download "Casting the Runes" by M.R. James,...
A few years ago we gave this story away as a Halloween gift to our readers. Here's what we said: A gift from us this week before Halloween, the story that Olivia Laing recently called, "Scariest story ever, so horrifying that to this day I can't keep it in my house" and puts on par with stories by Bram Stoker and Stephen King. And perhaps more importantly, Edward Gorey selected it for his...
6 tags
3 tags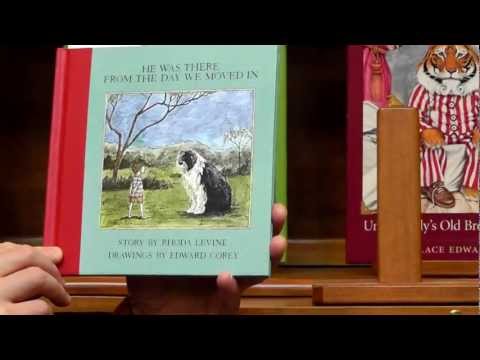 2 tags
6 tags
5 tags
The Chap in the Cap
johnkerschbaum: Since today is Dr. Seuss' birthday I thought I'd post this comic I did circa 2001 for Kurt Wolfgang's infamous mini-comic Low Jinx #3 - The Big Rip-Off. It's a bit of a mash-up between the good Doctor and another of my cartooning super-heroes, Edward Gorey.
4 tags
1 tag
back in print after 40 years... →
2 tags
3 tags
5 tags
9 tags
5 tags
4 tags
5 tags
Mark Dery on Floating Worlds: The Letters of...
Mail Bonding May 7th, 2012 CORRESPONDENCE — for the sake of corresponding, at least — is going (has gone?) the way of the carte de visite. For scholars, or anyone who cares about the historical traces we leave, the extinction of the personal letter is an incalculable loss. Email, snail mail's evolutionary successor, is an epistolary form for an age of overwork, data deluge, and time...
2 tags
5 tags
"What he and co-set designers Scott Dunlap and Warren Brady have done, he said, is take their inspiration for the set from Edward Gorey's gothic drawings."
7 tags
"In her 2009 bestseller, "Alice in Wonderland," Garcia drew upon John Tenniel's famed illustrations of the rabbit-hole adventure, but the 40 illustrations for "Snow White" are pure Garcia originals. The biggest challenge? The little men. The dwarves were a knotty puzzle to solve. "They were the hardest characters to design; they were grumpy old men but I still wanted them to be cute," said...
4 tags
4 tags
5 tags
The Daily Texan: You've done some comics that were really spot on homages to the style and content of some other artists, e.g. Edward Gorey and Robert Crumb. Was there one of those, a style and world that you particularly enjoy exploring? Nicholas Gurewitch:  The Edward Gorey take-off had an effect on me in that I got to thinking: Gosh, what if I did a whole book this way. I could add...
3 tags
6 tags
"She is currently working on projects in development including Pinocchio with Guillermo Del Toro and The Doubtful Guest, based on the book by the late author and illustrator Edward Gorey."
6 tags
6 tags
4 tags
11 tags
6 tags
3 tags
8 tags
5 tags
5 tags
8 tags
Watch
The style of the artwork in the sequence in which Bart tells his classmates a story about a murderous cafeteria worker resembles the work of Edward Gorey. A piece of music is used in this scene that is reminiscent of Ástor Piazzolla's "Introduccion" from the Suite Punta del Este (also used in the film 12 Monkeys.) This story also referencing Sondheim's Sweeney Todd. The Simpsons - Yokel Chords